Las Vegas, Nevada (October, 2, 2019) – PRNewswire – Aruze Gaming ("Aruze") is delighted to announce the global premiere of Roll To Win Craps™ at Harrah's Cherokee Casino Resort in North Carolina. Harrah's Cherokee is managed by Caesars Entertainment LLC, and is an enterprise of the Eastern Band of Cherokee Indians. This North American install will be the first in the world to go live.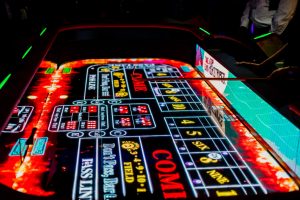 Roll To Win Craps™ is a ground-breaking semi-autonomous craps game which allows players to shoot real dice across a large LED playing field screen. Utilizing the same footprint as a traditional craps table, the bright LED panels on Roll To Win Craps™ display amazing graphics and eye-catching animations. Individual player stations accept cash and provide tickets, so no physical chips are needed for play. Players are able to place bets privately on their screen, and then see their virtual chips displayed on the main playing field.
"Throughout the development process for Roll To Win Craps™, Caesars provided invaluable feedback to help us create a product that was perfectly suited to both player and operator needs," said Brandon Knowles, Executive Director of Table Games at Aruze. "Because of their involvement and continued support of this product, we are really thrilled to have the first install at one of their most beautiful properties."
Because of the unique nature of Roll To Win Craps™, where bets are always tracked along with who the shooter is, Aruze is available to offer a Hot Shooter side bet. This side bet makes the best part of a craps game – a hot streak – even more exciting.